Top RV Memberships & Discount Camping Clubs to Join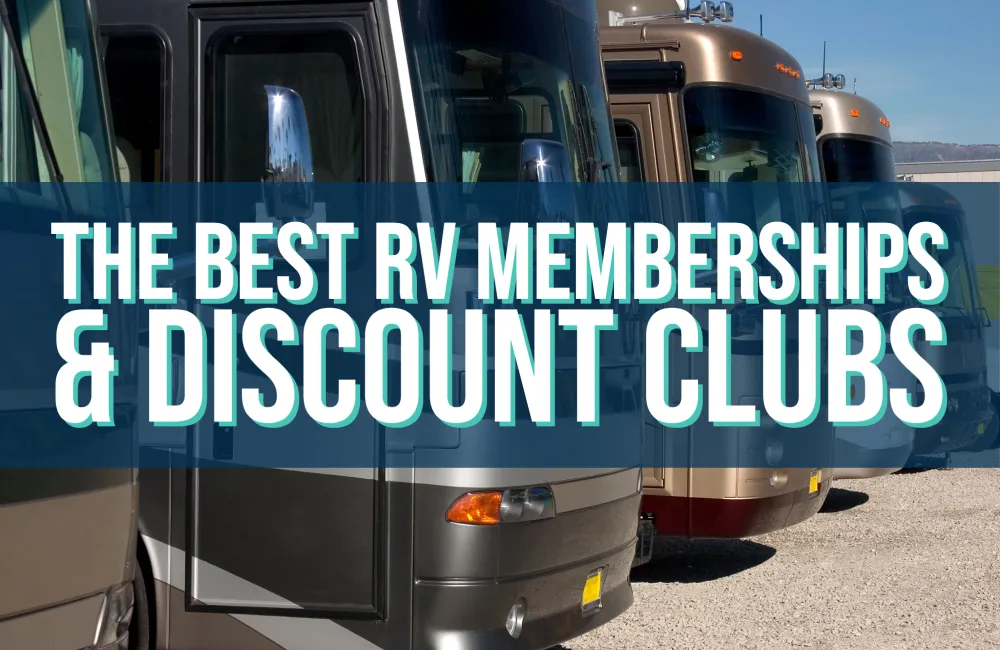 Let's face it, life on the road can be lonely at times. While some RVers prefer solitude, some of us would like to find our tribe on the road.
There are clubs for just about everything these days. If you have an interest in something, there is bound to be a group of people that have likely gathered together to join in sharing information about their favorite hobby, lifestyle, or attraction. RV owners and RV enthusiasts are no exception to this, and rightfully so, given the fun, adventurous, and relaxing time afforded with RV ownership.
If you have ever been RVing, one thing you will quickly find is that RVers love community. Every RV park and campground is a small community where those that appreciate the outdoors and the flexibility of camping that only comes with owning an RV.
Naturally, many of those communities have moved to an online environment, where owners can connect and share thoughts, ideas, and experiences that help them get the most out of owning their RVs. There are many different types of RV clubs available online and in person, and most charge for membership. But don't let that stop you from joining as there are many great perks for becoming members.
Best RV Community Memberships to Join
A quick search will reveal that there are a lot of RV clubs to choose from – they offer many benefits, but some focus more on community than camping. Those are the RV memberships we cover in this list. Decide to become a member? Let us know in the comments!
Escapees RV Club – Escapees offers fantastic member discounts on several items, from warranties to tires, to RV park discounts across the United States, Canada, and Mexico. They have a large community on and offline that consists of several different chapters and thousands of members. This would be an ideal choice for those just starting their RV journey.
Xscapers – A community within Escapees RV Club for the "Working-age RVer". This is generally a group with an average age of somewhere in their 40's. Xscapers hosts "Convergences" on a regular basis all around the country which cater to working hours, having most of the events in the evenings and weekends. These tend to be a little more of a party vibe for the week of the Convergences. Find that community you are craving as a nomad with Xscapers.
Family Motor Coach Association – Much like the Escapees RV club, FMCA offers discounts on a variety of products and services. They also have a great online forum where RV enthusiasts can trade information. For the value of offerings, this might be a good choice for a budget-conscious consumer. FMCA has "rallies" that get like-minded RVers together.
Best RV Discount Camping & Resort Clubs
Discount campground memberships get you access to campsites either at a discount, or for free after you've paid your membership fee. These don't really come with a community aspect, but they can save you tons of money on campsites and camping fees, depending on how often you use them and what your traveling style is.
Thousand Trails – This is a discount camping membership that gets you access to their network of campgrounds, and comes with camping benefits. Membership includes free stays of a couple of weeks to a month depending on the level of membership you get. It's an insane value for the right person or family!
Passport America – Boasting as the "original" and "worlds largest" RV community, Passport America has modest offerings through a discount card that can be used at participating campgrounds across the United States. An excellent choice for those who are just seeking a campground discount.
Harvest Hosts – For the wine lover Harvest Hosts is a great choice. They offer unlimited overnight stays at over 1000 different wineries, breweries, farms, and museums, this is a benefit that is hard to beat.
Good Sam – A Good Sam membership gets you roadside assistance and RV-related discounts. It isn't a specific membership to a specific set of campgrounds, but it does get you many perks and discounts for RV products and campsites. With Good Sam, you get 10% off of stays at over 2,000 campgrounds across the country.
Should you join an RV club?
Before signing for a club, there are a few things that should be considered, especially since there are monthly or annual dues associated with joining each club. With all the benefits offered by the various clubs, it is important to decide which one to choose by asking yourself if you should join, your specific needs, and the benefits of the club you are planning to choose.
So, should you join an RV club? This is perhaps the most important question to answer because by doing so, you will determine if paying for the dues or joining are worth the membership.
Here are some of the basic things you should consider before joining an RV club:
1. How much do you plan on traveling in your RV?
If you answer this question by seeing yourself traveling more than 3 times in a year with your RV, then it is more than likely that joining a club would be a smart investment for you. Given the discounts that come from joining the club, there is a good chance that the money saved through those discounts will pay for the membership itself.
2. Do you enjoy being part of a larger community or do you prefer the solo camping life?
Community, community, community. One of the large aspects of joining an RV club is if you prefer community. After all, the purpose of joining is to make lasting connections that can help grow your RVing experience. But if you are a solo camper, then the community afforded might be a good reason for joining.
3. Would you take advantage of the perks that come from joining?
All of us have signed up for some type of agreement that involves a forward providing service such as those provided by an organization that provides warranties or roadside assistance. RV clubs typically operate in the same manner. They offer a service, similar to warranties, that can be used at a later date. If you don't foresee yourself as one who would use that service then membership, for this reason, would not be a smart decision.
4. Assess your specific needs
We all have specific needs, that is why there is such variety in the different types of RV clubs in the current marketplace. By looking at your needs, you can then make the right choice in knowing which RV club to join.
For instance, if you have a large family that consists of smaller aged children, you will likely want to consider one of the many groups that cater to younger families. Depending on the type and brand of RV you have, you might want to join a group that is tailored to that specific brand.
Another example could be found in the lifestyle or mode of camping you choose. If you like to boondock, or camp off the grid, then you should look for groups that share a similar interest in that and the same applies to full-time RVers; they should be seeking communities that do the same.
What are some benefits of joining an RV club?
This is where things get fun and interesting. There are so many perks or benefits that come from joining specific RV clubs that the choice can become daunting. The best path forward in navigating these choices is to carefully consider what each one offers.
Campground Discounts
Some of the best benefits come from camping discounts. Almost every RV club available offers some sort of camping discount. The discounts range from daily discounts to even receiving one night free at the camping ground of your choice.
Roadside assistance
Just like signing up for triple A, most membership programs include roadside assistance. This is a great benefit to have, as RVs have special requirements given their larger size when it comes to towing or even performing a simple tire change.
Shopping Discounts
As you search through the various clubs, you will find that most have an affiliation with a retailer and will give a discount on specific items. The steeper the discount, the better the value, as saving money on purchases can pay for the entire membership. Some discounts offered include Tire brands, Cellular plans, Insurance, Fuel, and more!
Final Thoughts
RV clubs are a fantastic source of knowledge, discounts, and community for all RV enthusiasts, from those that have been RVing for a lifetime to those who are just starting, there is much to benefit from joining an RV club. Before joining any club, it's important to ask yourself why you should become a member, the benefits offered, and then set out on finding the club that will be a good fit.