Starlink Price Increase and Portability Gone!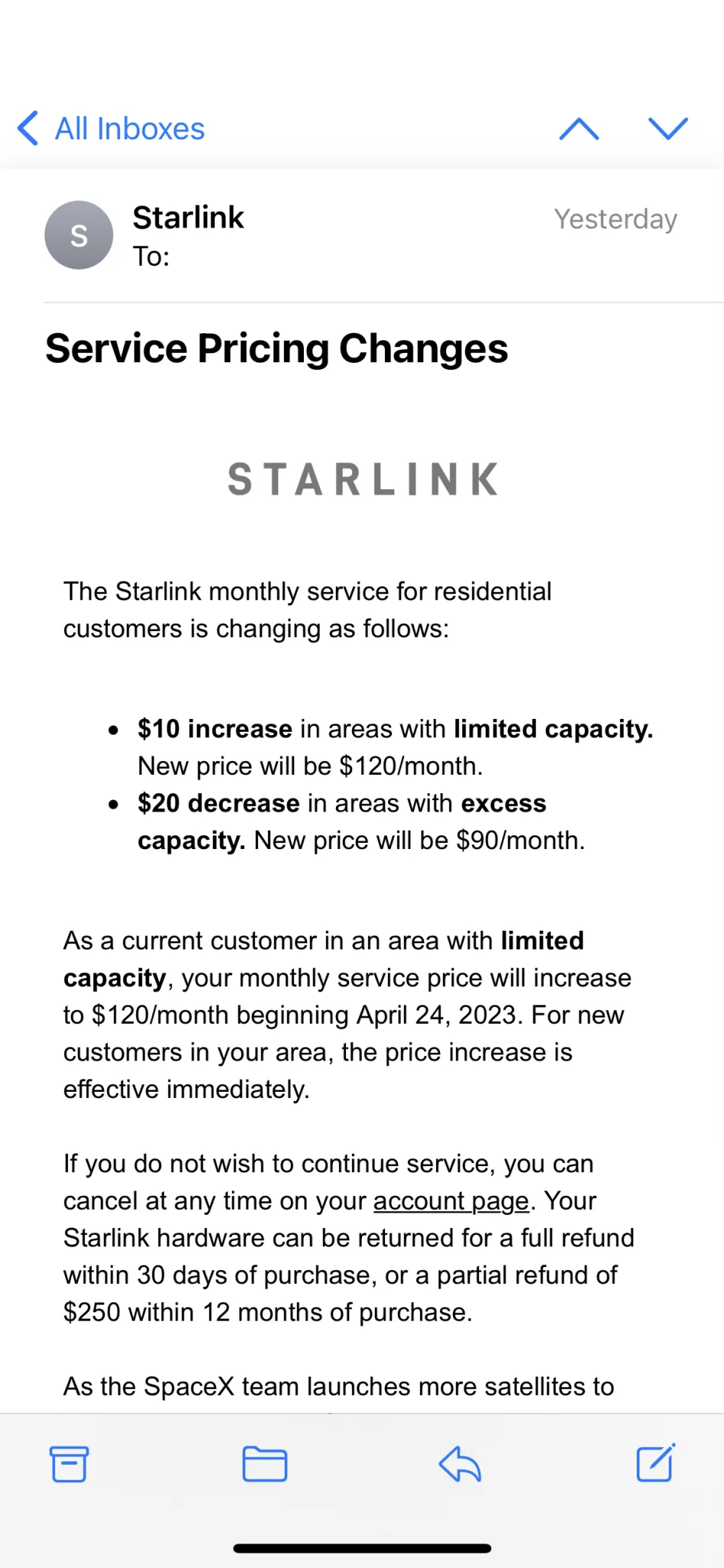 As of Tuesday, February 21, 2023, Starlink has begun to send emails to existing U.S. BASED account holders stating some changes to their pricing, Terms of Service (TOS), and a big update on the Portability feature for Residential Accounts. These changes will begin on April 24, 2023, according to the emails.
Their TOS aren't all matching up with their email blast, though, so stay tuned. In this article, we try to wrap our heads around these changes.
This is currently only known to be for U.S. based accounts, but reports from Canadian customers are also showing screenshots of their email stating that Portability is no longer available in the U.S. This means for Canadian snowbirds, you will have to switch to RV if you want to travel with it south of the border.
Snapshot:
Residential Accounts increasing to $120/mo ($10 increase) in low capacity areas
Residential Accounts decreasing to $90/mo ($20 decrease) in high capacity areas
Portability option going away unless you currently have it enabled (will go away if you turn it off)
RV Accounts increasing to $150/mo ($15 increase)
Pricing Updates
Starlink Residential Accounts
Current account holders (and those on the waitlist with a deposit) are starting to receive their emails about Starlink's upcoming pricing changes. Many Residential Account holders will see an INCREASE to their monthly fee, and some will actually see a DECREASE.
If you are in an area with limited capacity, your monthly service price will increase to $120/month. If you are in an area with excess capacity, your monthly service price will decrease to $90/month!
This is welcome news for the users in those "excess capacity" areas, but a blow to those in the "limited capacity" areas.
It's hard to tell on the map where exactly those places are, especially after looking at my service address and it showing that I am in a "high capacity" area on their capacity map. My email is stating that I am in a "limited capacity" area, where I will see a price increase to $120/mo, which is a little hard to follow. This is found under the RV tab of their main site. https://www.starlink.com/map?source=rv.
Starlink RV Accounts
ALL RV Accounts will see an increase to their fees, going from $135 to $150. Everything else with these accounts seemingly is remaining the same.
Starlink Portability Changes
Unfortunately, Portability as an add-on for Residential Accounts seems to be going away. If you currently have it enabled on your Residential Account, it will remain usable. If you don't have it enabled currently, the option has disappeared to add it. Once you turn Portability off in your account, the option to turn it back on disappears.
If you want the functionality of Portability for traveling, you will now be forced into switching to an RV Account at $150, with no current way to switch back to Residential. This is a real bummer for a lot of users that used Portability when needed, and turned it off to get priority access when able to.
Things are evolving rapidly, so stay tuned for updates as the dust settles from this.
What are your thoughts on these changes? Drop us a comment below!