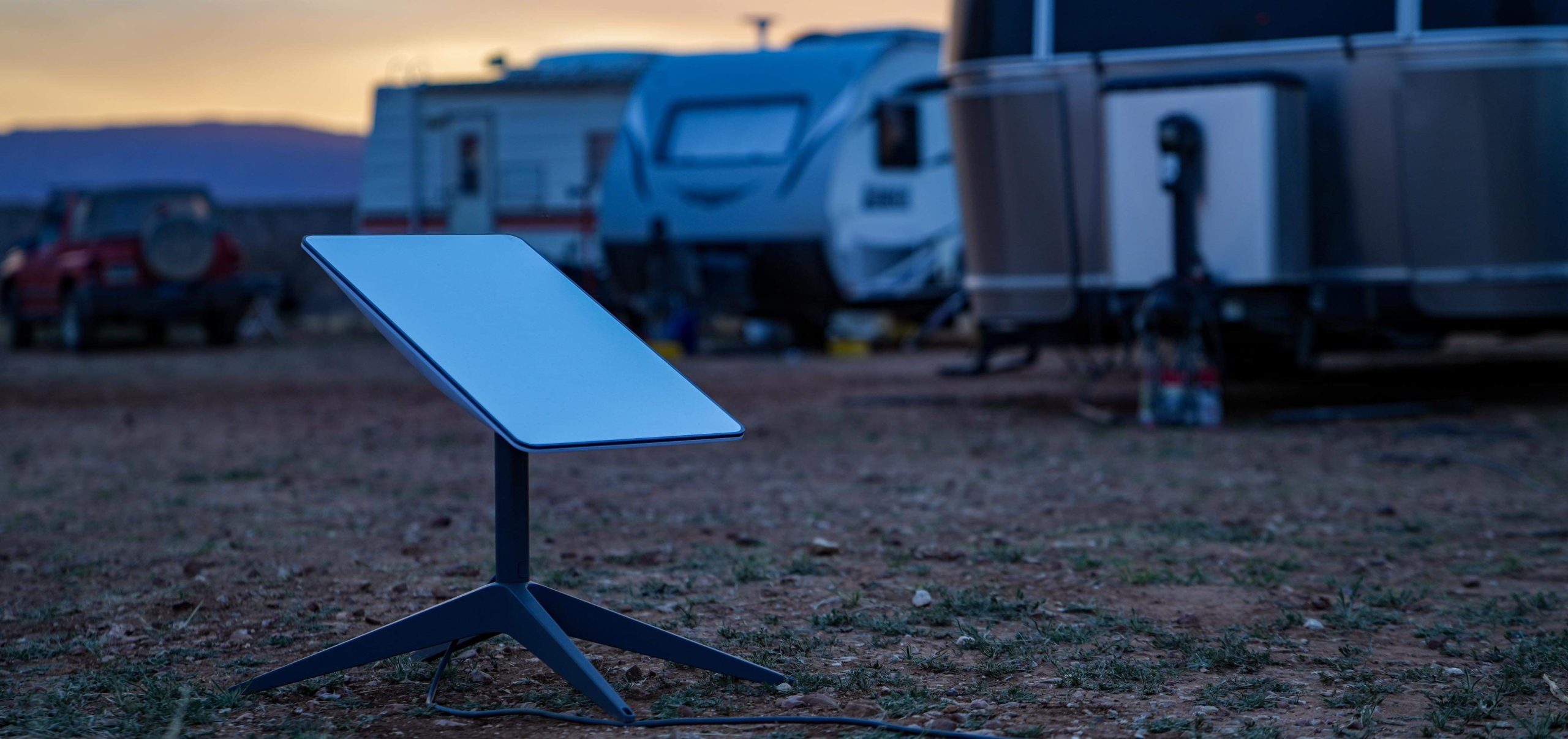 This is an overview of accessories for Starlink. For a more in-depth view of Mounting and Storage Options, check out our article on that here:
Starlink RV Mounting & Storage Options
So, you've ordered Starlink or already have it…woohoo! After your face gets done melting from the blazing download speeds, now you want to see what accessories are available.
We will cover some of the mobile relevant ones (or ones that can be adapted for mobile use) that Starlink offers directly and some aftermarket products that users have adapted to work with their equipment. Let's first take a look at storage bags and boxes.
Storage Bags and Boxes
There are a number of creative ways users have come up with to put Dishy away for travel or storage when not in use.
Shipping Box
First we have the most obvious: use the box it was shipped in. This is what we call the K.I.S.S. method (Keep It Simple Stupid). If it's good enough to ship to us in, it's good enough to travel in our RV, boat, car, etc. The biggest issue we have seen with this is that it won't hold up for very long getting moved around, contents removed and put in, and just general RV living, so here are some longer term solutions for it below.
Top of the Line: Starlink Pelican Case
Pelican cases are renowned to be top of the line protective carry cases for firearms, cameras, electronics equipment and more.
The Pelican 1610 case has been posted about on our Starlink RV Facebook Group as a great option for keeping the newer rectangle Dishy safe when not in use.
Here is the link to the post with a great picture in the comments of a user adapting it for Dishy. If you want the ultimate protection for your expensive Dish, check this one out!

Plastic Storage Boxes and Bags
There have been a number of users trying out various plastic storage boxes and bags from Amazon and Home Depot that work well also.
Some are sealed and waterproof and some are just your typical storage box lid. Either way, they seem to be a great inexpensive way to be able to toss (please don't ever toss Dishy!) into a storage bay or backseat of a tow car or truck. Here are a couple we have seen mentioned in our Starlink RV Facebook Group:

Easy to Carry: "King" Satellite Antenna Carry Bag
This "King" brand antenna bag can fit the rectangle Dish really nicely and make it easy to carry up your ladder if you are putting it up and taking it off the roof regularly!
Starlink Mounting Options
If you want a way to get your Dishy off the ground, check out these mounting options for ladders, hitches and roofs:
Hitch Mount
A flagpole hitch mount is inexpensive and easy to attach.

Flag Pole Buddy

Maybe the most popular way Starlink users are mounting Dishy to their rig is the Flag Pole Buddy from flagpolebuddy.com. They have a newer "Starlink Kit (2nd generation)" that works with the Starlink post fitting in to their adapter. It comes with two 4 foot pole section and mounts for a standard diameter RV ladder. This will help you get Dishy off the ground and above roof level to keep it safe and help avoid obstructions.
You can purchase just the ladder adapters if you want to DIY the rest of your custom mount here:
Here is another option from Harbor Freight we have seen reported being used. You will need a pipe adapter to size down to the Dishy pole size.
Starlink.com Shop Accessories
Starlink Ethernet Adapter
https://shop.starlink.com/products/us-consumer-ethernet-adapter-gen2
If you want to connect a device directly to the Starlink router, use this adapter. This can also be used to bypass the Starlink router if you want to use an aftermarket router with more functionality, such as something like this Peplink router below, this adapter will allow you to do that as well.
Starlink Mesh Router
Look familiar? That's because it looks the same as the one that comes with your kit if you have the current Rectangle Dishy.
You can link these together if you are getting a weak Wi-Fi signal in part of your home or RV setup. I just verified with Starlink Support that this Mesh Router will not function as a replacement for the main router, it needs the main router to function.
Starlink Pipe Adapter
Want to DIY your own mount for your Dishy? Use this pipe adapter to convert from pipe diameters up to 2.5″.
Starlink Pivot Mount
You can screw this down to an RV roof and click Dishy into it when you get to a campsite to get Dishy off the ground and above obstructions. I have seen vanlifers bolt a strong, dual magnet setup to this and attach it to the roof this way so you don't have to drill into the van body.
Magnet mount to bolt on to the Pivot Mount


Additional Cables
Starlink has made it somewhat difficult to use off the shelf cables with their system.
The new, rectangle dish has a detachable cable on both ends (yay, finally!), but they made the ends proprietary (boooo!).
The original, round dishes had a 75′ cable that was permanent on the dish side of it.
You can buy additional cables from the Starlink store when you log into your account online if you want a backup, to try one of the hacks that you see out there for converting it to 12v, adding length to the affixed round Dishy ethernet cable, or to make one end of the new proprietary one an ethernet end to bypass the Starlink router that you are stuck using if you have the Rectangle Dishy.
75′ Replacement Cable from Starlink
150′ Replacement Cable from Starlink
Wall Mounts
Starlink Long Wall Mount
https://shop.starlink.com/products/us-consumer-long-wall-mount-gen2
Starlink Short Wall Mount
https://shop.starlink.com/products/us-consumer-mount-shortwall-gen2
Starlink Ground Pole Mount
https://shop.starlink.com/products/us-consumer-ground-pole-mount-gen2
Starlink Gifts
Here's a few random stickers, magnets and other Starlink branded things we have found that have no functionality other than to show off your pride for the brand or as a fun gift for someone!
The market is still young for Starlink specific accessories, so for now we have to be creative and adapt products to work for our needs. Hopefully, these will get you started or at least spark ideas to help you come up with a solution that works for your accessorizing needs!
Do you have other accessories you think are worth mentioning? Drop a comment below!