Best Awning Lights for Campers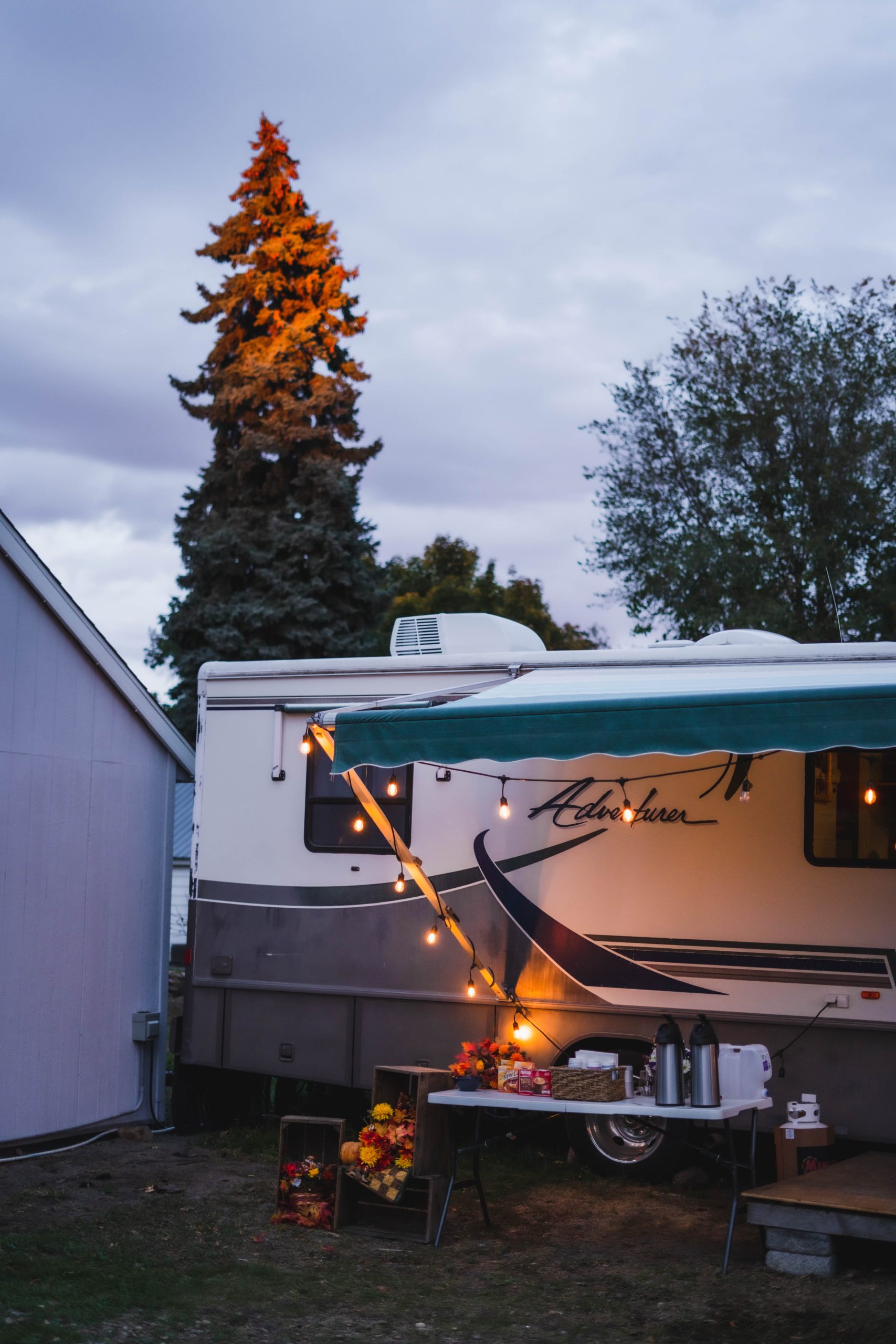 If you're heading out camping and want to enjoy time outside after the sun goes down, you are going to need a way to light up the campsite.
Why You Want Awning Lights
The built in patio light near your door don't typically give enough light to help you avoid tripping over things like the stakes holding your patio mat down and just generally having an inviting area for yourself and others to enjoy hanging out in.
Adding awning lights can help you make your patio feel warmer and add some flair or help you get it ready for a campsite party!
What to Look For
There are a few things to consider when buying awning lights.
For instance, you will want to verify if they are 12v lights (what a typical battery system is in a camper) or 110v ones (typical household voltage like your outlets use, which will need to be run through an inverter). Most likely, you want solar-powered or 12v lights, since that will be the most energy efficient to use in an RV.
You will also want to think about what color(s) lights you want. You can get simple white lights or there are lots of options for multicolor led strips and rope lights nowadays.
With white LED lights, you typically have two options in color: "cool white" and "warm white". Cool white is a bright white that usually is brighter and provides more light. Think of a traditional "shop light" with the fluorescent tube bulbs.
Warm white usually has more of an off-white, or slightly yellowish look to them. They typically will give off less light, but have a more natural light look to them.
Also, think about how they mount. Do you want a cute light string set that has vintage camper shaped lights that you hang up when you bring out the awning, or do you want a permanently mounted strip at the base of the awning that's always ready to use?
Take a look at our recommendations below for some of the best RV awning lights available. Need advice on how to hang them? Check out our post on "How to Hang & Attach Lights on Your Awning".
Best Solar LED Rope Lights
Here are a few great options for Solar LED rope lights, in the three typical color options. Do you want a natural light look, the brightest ones possible, or have the option to set the color scheme you want for your mood or to have a party look?
Top Picks for Plug-in (110v outlet) Rope Lights
These lights will plug directly in to a wall outlet. You will either need to be plugged into shore power or have an inverter to power these while off-grid. If your camper doesn't have an inverter, you can power your outlets via a generator, but only while it's running.
One of the big advantages of these is that many of them have remotes or bluetooth connectivity that allow you to select and customize the light colors and modes.
The biggest drawback of these is that they consume more power if you are off-grid, simply because they have to have 110v power through an inverter typically, which has inefficiencies in power conversion from your 12v batteries. If you are plugged in to shore power, this is not a concern.
The second and third options are a little more expensive, but they are a lot longer and have a nice reel that makes it easy to pack up and put away in your camper when you are packing them up.
Cute Hanging Light Strings
Want to have a little fun with your awning lights? These offer some quirky twists to your patio, while still giving you the functionality of useable light.
110v Bluetooth Shatterproof
USB Powered!
110v classic style
12v Awning Strip Lights
These are a great choice for simplicity after install, though they will take a little more effort up front. You will need to hardwire these into your 12v system, which can be done numerous ways, depending on your particular setup. Once the initial install is done, it's smooth sailing from there!
Cool (bright) white 16′
RGB (Red, Green, Blue) multicolor 16′
Dimmable 20′
Front Door Patio Lights
Looking to just replace/upgrade your stock light near your front door with a brighter light or more energy efficient LED one? If you don't want to bother with setting up awning lights, but want a better outdoor experience at night when camping with your RV, check out these replacement lights above.
Clear or Amber lens options
Super bright 750 lumens!
2-pack for two doors or a toy hauler
They are typically just 2 wire positive and negative 12v wiring, so very easy to replace. Don't forget to cut off power before swapping these out! Also, make sure to seal around them with some silicone sealant like our favorite, Pro Flex RV Flexible Sealant by Geocel.
Awning lights are a cheap, simple way to add character and functionality to your campsite. Hopefully these help you spruce up your patio when you're out having fun!
Do you have an awning light you love that's not mentioned here? Drop us a comment below.